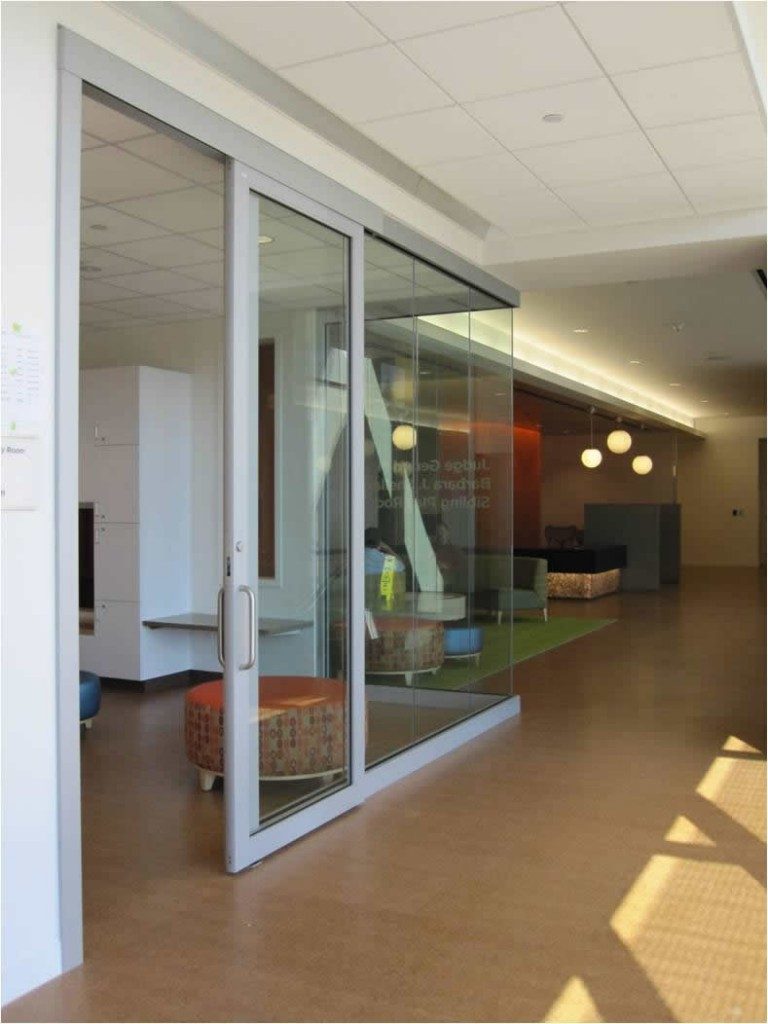 Attracting visual attention is often something building designers are striving for. One way professionals can achieve this goal is by incorporating commercial storefronts (a non-load-bearing glass assembly spanning no more than 10 feet high) into their design. Although most commonly thought of in its exterior-facing window display application, a storefront can also create enhanced visual dynamics when used in an interior setting. One way to include an interior storefront system into your building design is through the use of glass sliding doors. To create an optimal interior storefront with sliding glass doors, five things need to be considered: acoustics, accessibility, aesthetics, hardware and meeting necessary building codes and standards.
Acoustics
Making sure you have the correct acoustics for your workplace, hotel, or retail space can be critical to creating the right building environment. The benefit of reducing excess noise can help in overall occupant satisfaction and wellbeing.  With new advances in sound-attenuation mechanisms and operating systems for interior glass sliding doors, interior storefronts can meet current HIPPA and FERPA privacy laws. Sealing on all four sides of the sliding glass door leaf improves the structures' sound abatement properties. A storefront system doorway can provide Noise Isolation Class (NIC) values up to 39. And, if properly specified, the sliding door systems are now available with soft-close dampening systems for noise and slam reduction control. In many cases, this negates the need for a latch, even further reducing operational noise.
Accessibility
By law, all building design needs to adhere to the Americans with Disabilities Act (ADA).  ADA standards state that "doorways shall have a minimum clear opening of 32 in. with the door open 90 degrees, measured between the face of the door and the opposite stop." With the use of sliding door systems, specifiers can avoid the use of a traditional swing door in their interior storefront, which can prove challenging if space is limited. With the elimination of a swing door, occupants can maneuver in and out of narrow spaces more easily.
When building designers add self-closing capabilities to their sliding glass doors, an interior storefront can now include functionality that reduces strain on occupants with limited mobility and those carrying heavy loads.
Aesthetics
Making sure the look and feel of your space is right is just as important as other considerations when it comes to the inclusion of your interior storefront. With new customization options, interior sliding glass doors can meet any project need. A good example of this is the AD Systems OfficeSlide™ door system.  AD Systems designed OfficeSlide systems to combine customizable finish choices, glazing options and frame colors with the best performance features. These doors were specifically designed for commercial office and institutional applications and can meet any project requirements.
Something to consider when choosing the design of your interior storefront is deciding on the level of transparency you want in the space. Daylighting benefits through transparency are proven to increase the health and happiness of those in the building. Depending on what the function of the building is, however, privacy can be just as important in planning your building design. No matter if you are going for more openness or privacy, glazing can be specified to accommodate.
Hardware
Another vital aspect of an interior storefront system to consider is the hardware, specifically when it comes to meeting ADA compliance standards. AD Systems offers a wide range of ADA compliant hardware options for your sliding glass door. According to ADA standards, hardware must be no higher than 40 in. from the ground and easy for occupants to grasp or use. In meeting these criteria, the door handle included on the entry to your storefront system must have the proper handle clearance with hardware solutions that do not require pinching, twisting, grasping or special knowledge to operate.
Many current commercial-grade locking and latching systems allow sliding doors to maintain a complementary hardware look across all of the doors in a given building. This helps to keep the door systems code-compliant while not compromising on aesthetics.
Building Codes
When building out a design, professionals know that they must not only make a space aesthetically pleasing but also meet building code requirements. In addition to ADA standards, design professionals need to consider a host of other standards, including certain standards for fire and smoke.  With interior storefront systems, doors solutions must often meet certain fire-ratings and ADA requirements. AD Systems OfficeSlide glass sliding doors can be added to a storefront system and are available with an Underwriters Laboratories, Inc.® (UL) 1784 smoke rating. For best performance, incorporating a sliding glass door system that also meets all the code requirements is key to any storefront design.
Creating a space that is functional, yet also visually pleasing is the goal of any building professional. Learn more about how AD Systems OfficeSlide doors can help you achieve those goals.