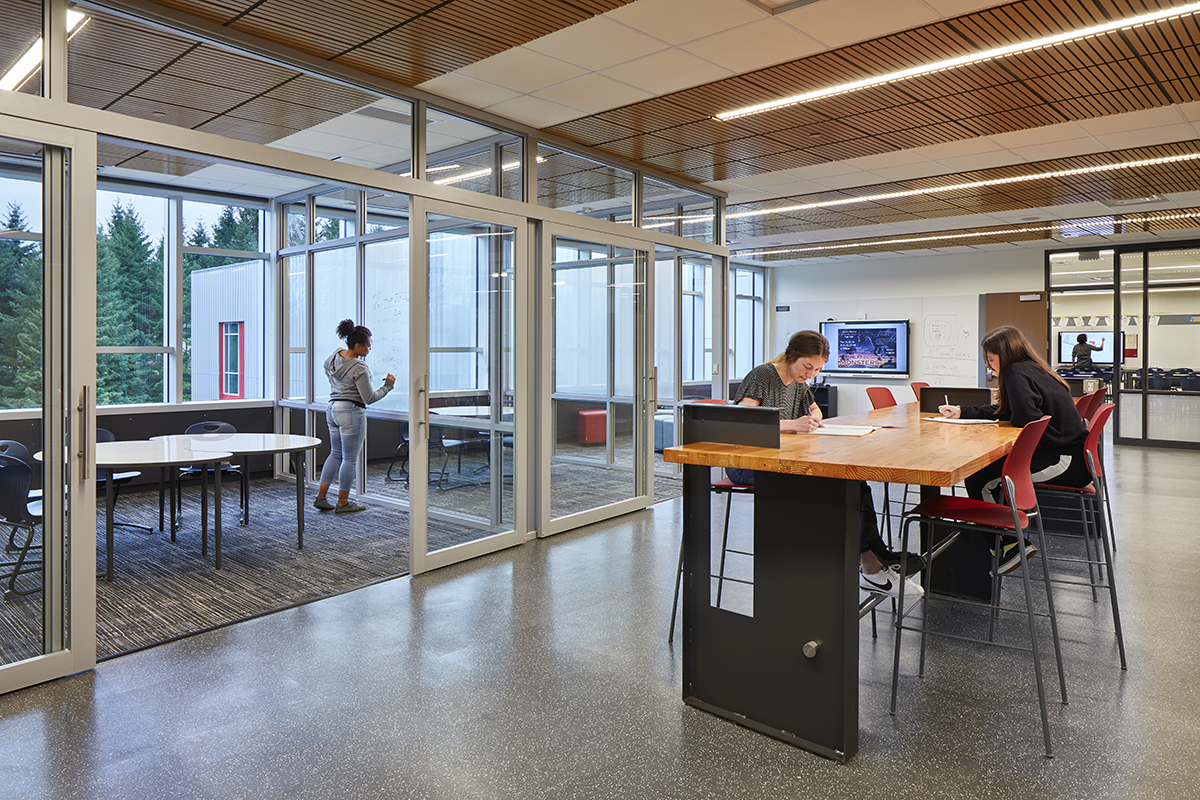 Research shows that active, engaging and student owned educational experiences lead to deeper learning and better social connection. In fact, according to researchers Herron and Howard[1], every school district's mission should incorporate thoughtfully designed spaces that provide everyone the opportunity to learn. For Juanita High School, located in Kirkland, Washington, this meant supporting approximately 1,400 students with the best learning environment possible. To do this, the district partnered with Integrus Architecture to turn their 49-year-old school into a modern and innovative learning center.

The district's design goals centered on providing a variety of functional, practical and adaptable spaces. Their aim was to create an inviting environment for students to engage in multiple forms of learning—collaborative, instructional and virtual. With this in mind, Integrus Architecture sought to "reinforce the strong, interconnected culture of the school community by eliminating isolated wings, while celebrating moments of learning throughout the entire facility and site." One of the ways Integrus Architects chose to execute this vision was through shared learning areas. This took the form of two enclosed breakout spaces for small groups and one-on-one learning scenarios.
A Custom Breakout Solution
To integrate these synergistic breakout spaces, the firm needed a custom door system that didn't close off the learning area visually and met the space's complicated wall angles. The design team specified AD Systems' customized OfficeSlide™ sliding door system, complete with sidelites, transoms and a bi-parting pair of sliding doors. With successful installation eliminating the swing path of a traditional door, each sliding door provides additional room for students and teachers to gather comfortably, enhancing collaborative capabilities.
OfficeSlide doors are specifically designed to meet the LEAN design principles of today's facilities. With high-quality, commercial grade hardware, the door's precision engineered framing system slides along a top-hung roller system for a smooth and space-efficient operation. In Juanita High School, the single-leaf door and bi-parting pair easily glide aside to expand learning beyond the four walls of the room. When the doors are closed, they create two private breakout zones. To accommodate the space's complicated wall conditions, which protrude at an angle of 83 degrees, Integrus Architects worked collaboratively with AD Systems. Using computer-aided design software (CAD), both parties collectively worked to engineer a completely customized sliding door system specifically tailored to meet the needs of the project.
Creating Illuminated Learning Environments
To promote student learning, the breakout spaces are also filled with ample daylight, which numerous studies have shown to benefit the performance of students and test scores. In detail, the featured breakout spaces' custom doors incorporate full-lite single and bi-parting glass doors, sidelites and transoms, allowing daylight to pass from the exterior throughout the entire room. This allows the enclosed zones to function as extensions of the greater learning area and effectively support design goals by eliminating isolated wings.  It also helps enhance student learning while promoting a general sense of wellbeing without omission.
Eliminating Distractions
In addition to OfficeSlide's daylighting and design benefits, the sliding door system is equipped with acoustic jamb gaskets and drop-down bottom seals. This results in excellent sound attenuation when sliding doors are in the closed position. Free of any small gaps that may allow noise transfer, these fully enclosed breakout spaces offer a quiet environment in support of focused learning. In collaborative scenarios, students will have no trouble exchanging thoughts and ideas while inside of these pods. Similarly, students outside the area should have no problem using the remainder of the room as the noise from inside the pods is markedly softened.
With this acoustically enhanced, transparent and space-efficient sliding door system, architects were able to achieve an open concept feeling that supports Juanita High School's open and synergistic culture.
Learn more about how AD Systems' line of high-performance interior sliding doors can fit a variety of applications, from schools and clinic exam rooms to private office spaces and corporate conference rooms. Contact our technical team at (425) 374-1368 or by email at adsystems.sales@allegion.com. 
[1] Behavior analysts at The Ohio State University, Heron and Heward, use supporting research to suggest that sound, light, and spatial support for bodily movement affect how individuals acquire knowledge. "Designing Collaborative Spaces For Schools." The Education Digest, T.H.E. Journal, Jan. 2015, ousdfmp.org/wp-content/uploads/2017/11/Article-Designing_Collaborative_Spaces_for_Schools.pdf.