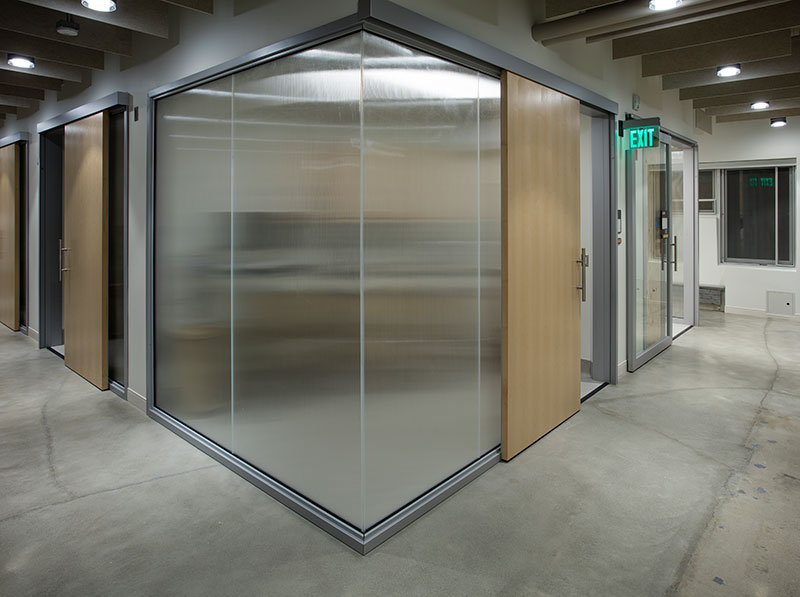 Evergreen State College Student Wellness Services Center: Designed with Mindfulness
To alleviate any stigma associated with seeking help with mental health and wellness, NAC Architecture focused on developing a spa-like feel for the Evergreen State College Student Wellness Services Center in Olympia, Wash. Natural wood, terrazzo and glass contribute to the soothing nature of the space's interior and help provide a connection to the natural environment. The glass, in particular, increases the amount of natural light within to create an atmosphere that focuses on occupant wellbeing. Flexible space-use as well as easily accessible and identifiable storefronts and exam room doors further contribute to the stigma-free atmosphere.
Equally important to creating an environment that supports wellness was thoughtful planning and room orientation. To help occupants navigate narrow hallways and balance daylighting with confidentiality goals, "circulation and work areas were strategically planned," explains NAC Architecture. Aiding this design plan, AD Systems' OfficeSlide™ sliding door systems satisfy ADA and patient confidentiality requirements while also fitting within the bright and modern design aesthetic. AD Systems also offered design support to ensure a successful and efficient custom build.
Narrow hallways stay accessible with sliding doors
Ease of navigation was paramount for the student wellness services center, but the building's narrow halls challenged the use of traditional swing doors. An open door near the beginning of the hallway would not only block access to the rooms behind it but also make wayfinding difficult for those new to the center. While incorporating sliding doors in the rooms throughout the hall would solve this problem, many standard offerings do not have sufficient acoustic ratings to protect patient confidentiality.
However, AD Systems' OfficeSlide doors fit both patient confidentiality and room accessibility parameters. Surpassing the ADA code requirement for 32-inch-wide door openings, the sliding doors provide either 36- or 39-inch-wide openings. With no swing clearance and the ability to save up to 30 square feet of space per door, the 21 OfficeSlide doors in the student wellness center work together to free vital hallway and exam room space while also supporting overall accessibility and easy wayfinding. The sliding doors have a simple, no-twist handle that makes them easy to use for all while also fitting the wellness center's clean and modern look.
Additionally, the self-closing OfficeSlide sliding door system has acoustic jamb gasketing and a drop-down bottom seal that abates sound around the entire door perimeter, providing Noise Isolation Class (NIC) values up to 39. This means these doors block 39 decibels of sound—a conversation of average loudness inside the exam room would be reduced to nearly the decibel level of a ticking watch outside the room. Not only does this meet or exceed the Facility Guideline Institute's sound attenuation goals for patient privacy in exam rooms, it also augments the calming atmosphere of the center by not allowing private conversations to bleed into common spaces and vice versa.
Sturdy doors and storefronts that support occupant comfort
The beautiful and durably framed OfficeSlide doors also align with the center's comfortable, occupant-centered theme. Their brushed aluminum finish matches the minimal design aesthetic of the Evergreen State College Student Wellness Services Center, providing the space with crisp and clean accentuating lines. While most of the doors sport a natural, flush wood finish to support the overarching concept of the center, some doors feature privacy glass infills. These infills balance the need for daylight within exam rooms and patient confidentiality. AD Systems' versatile sliding doors were also able to be tailored to fit specially made storefronts that feature large lites of privacy glass and form challenging 90-degree angles. The frames for the 90-degree cube were fabricated to meet at the angle and provide a smooth line across the corner.
While OfficeSlide doors are space-efficient and designed in a way that accentuates the spa-like atmosphere NAC Architecture sought to create, the glaziers were most impressed with OfficeSlide's durability. Ken Dahl, the project manager from Lacey Glass, said, "The doors were made from a stout material, so they were easier to install."
Technical support before, during and after installation
In areas of the student wellness center requiring in-depth sliding door and storefront customization, AD Systems' on-site technician helped ensure smooth and correct door installation. The technician guided the Lacey Glass glazing team through the difficult aspects of the build, like complicated shim-backing procedures and door adjustments. The expert insight and support also reinforced the idea that the team could contact AD Systems with any technical questions or fabrication issues.
"Having technical support from day one was really beneficial for the team," Dahl explained. "It made sure everything started right and kept communications open." The collaborative nature of this project and projects like it does more than just benefit on-site contractors. AD Systems listened to the initial questions the glazing team had and will use this knowledge to further innovate sliding door solutions.
Versatile sliding doors bring a concept to life
The college administration and its design team believed the space's environment should support the programming that its student wellness services center offered. Today, AD Systems' OfficeSlide sliding door system is one of many design features that help it do just that. It balances privacy with connectivity and sturdiness with beauty to create an accessible environment that removes the stigma around seeking mental health services.
Project location: Olympia, Washington
Architect: NAC Architecture
Glazing Contractor: Lacey Glass
Sliding door system: A range of customized OfficeSlide doors and storefronts
Amount of Product: 21 OfficeSlide doors