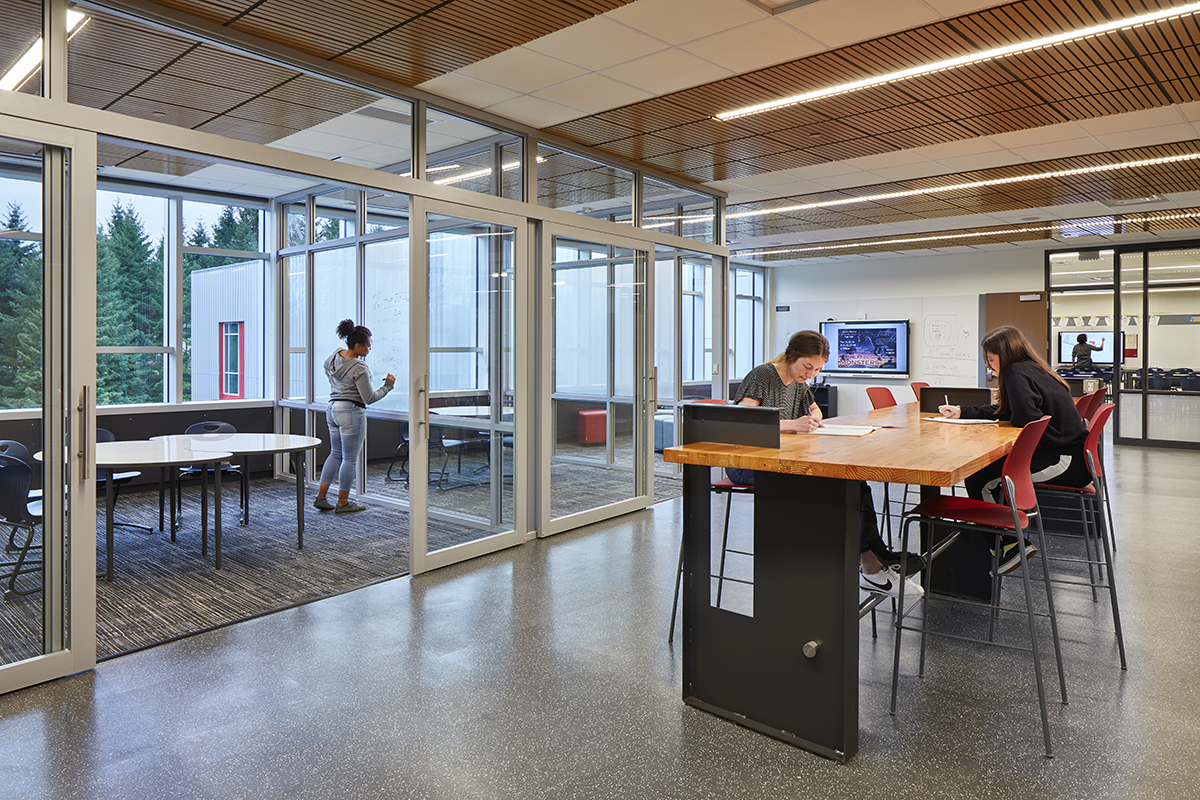 With a new academic year starting, school districts are actively evaluating their facilities with an emphasis on creating productive educational spaces and experiences. Sliding doors can be a part of the solution with their ability to save space and ease congestion, particularly in collaboration rooms, adjoining classrooms and flex spaces. With recent advancements, they can now go a step beyond and support noise management, for a better overall learning environment.
Beyond space savings to sound attenuation
It's no secret that classrooms and breakout areas with proper sound attenuation help eliminate distractions while supporting synergistic, collaborative learning. While much attention is paid to wall systems and their ability to mitigate sound in these environments, interior doors, and particularly sliding doors, are one of the weakest links in the assembly. They typically have lower sound attenuation than the surrounding wall, as they are thinner and prone to gaps around the perimeter. This can prove challenging for educational design teams desiring the space-efficient form of sliding doors.
The good news is today's sliding doors are addressing these concerns. While not technically soundproof, acoustically enhanced options rely on new sound attenuation mechanisms and operating systems to keep noise down and productivity up. They make it possible for design teams use sliding doors to maximize space and improve functionality, while still meeting sound abatement goals. 
Prevent excess noise transfer
Combating leaky gaps, interior sliding doors are now available with improved perimeter sealing to reduce sound transfer and better support student learning. For example, once a student or staff member closes a slider like AD Systems' ExamSlide™ and OfficeSlide™, it will seal on all four sides with acoustic jamb gaskets and drop-down bottom seal features. This tightens the perimeter and reduces noise transmission. The combination of sealing features also controls the volume of sound that can be heard from outside the room. In fact, interior sliding doors with mounting hardware are available that provide Noise Isolation Class values up to 39. This exceeds the Facility Guidelines Institute's STC 35 target for speech privacy, to positively impact student wellbeing through a quiet and peaceful environment.
Support distraction-free environments
Furthering performance, interior sliding doors that feature soft-close dampening systems help decrease overall noise transfer for a more distraction-free environment. These soft closers also perform the task of preventing a door from rolling open without the intentional act of setting it in motion. When integrated in schools, they can both preserve space and enable quite areas for better concentration.
Promote focused learning
Acoustically enhanced interior sliding doors also help control sound volumes—key as sound generated by the educational activities themselves is important for learning to occur. In classrooms, students are more likely to engage in active learning when they can clearly hear their teachers and peers. By using sliding doors with improved perimeter sealing, design teams can support this need by keeping the distracting sounds of hallway interactions to a minimum. This is extremely beneficial in collaboration cubes, breakout zones and parent-teacher conference rooms like those at North Creek High School. When the flexible sliding doors are open, they promote collaboration. When they are closed, they improve one-on-one and group learning.   
Sound-reducing and space-efficient
While not 100 percent soundproof, as few doors are, AD Systems interior sliding doors provide a level of acoustic separation fit for any school looking to revamp their facilities. If your campus is looking to make the switch to acoustically enhanced sliding doors to save space and promote learning, check out all of our available options and features for educational facilities.