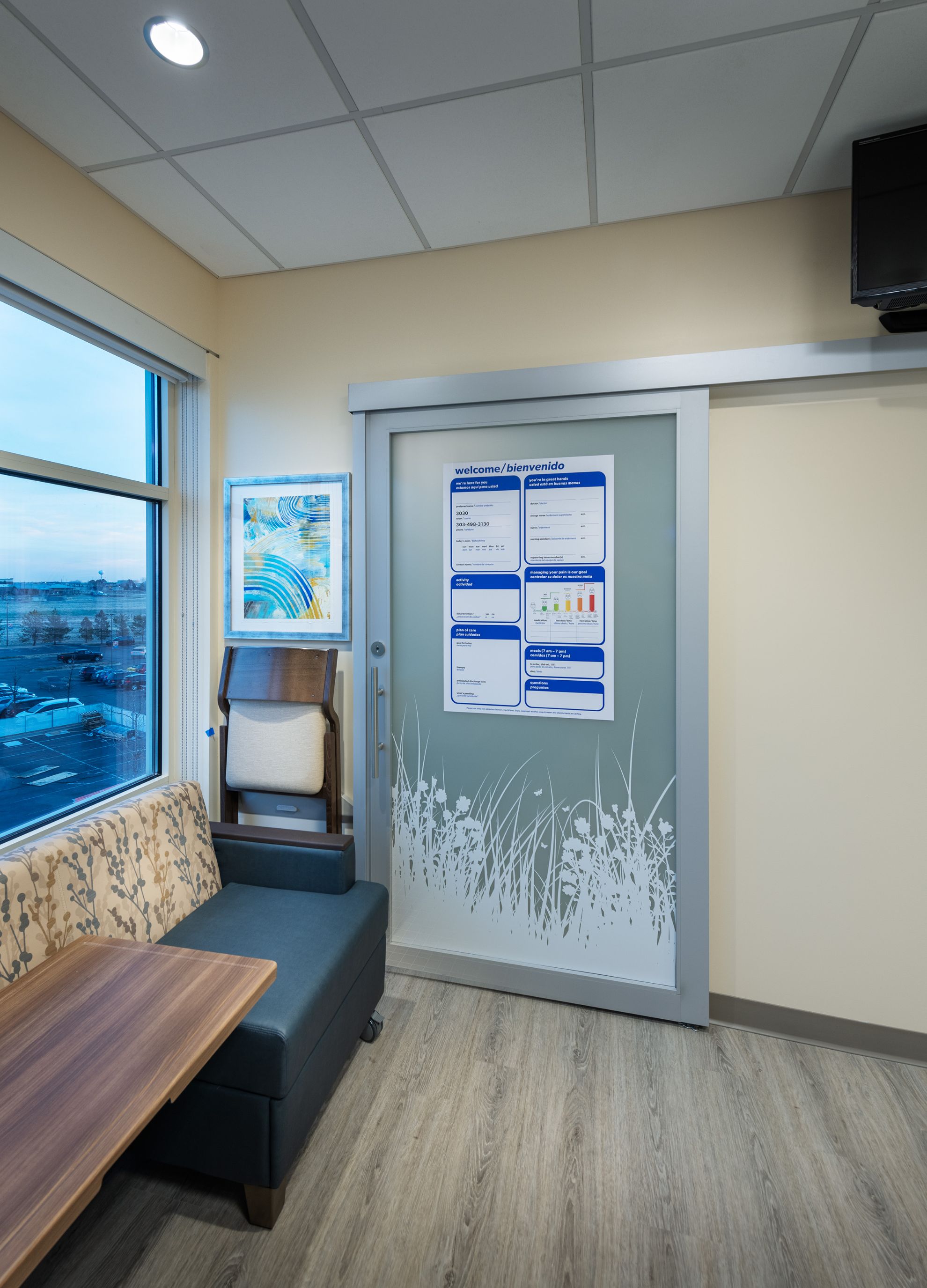 AD Systems and their commercial sliding barn door systems are rising to the challenge. With a clean, modern aesthetic, simple sliding track design and good acoustics, they are an ideal solution for a range of commercial uses. Here is a look at the top five applications that benefit from the space efficiency and sound attenuation these commercial sliding barn doors provide.
1. Exam rooms
For healthcare workers, opening and closing a door should be the least of their worries. Their hands are often filled with supplies, clipboards and other equipment, making it critical to have an easily movable door that provides efficient access to and from the room. Commercial sliding barn doors like AD Systems ExamSlide™ are an easy-to-use, space-saving solution. ExamSlide is designed specifically with medical facilities in mind and provides acoustic seals that help it provide NIC (noise isolation class) values up to 39. This meets or exceeds the Facility Guidelines Institute's STC 35 target for speech privacy in exam rooms, ensuring doctors and patients have the privacy they need.
2. Conference rooms
Today, collaborative spaces are practically a necessity. Many conference rooms need to be adaptable, offering privacy and openness depending on the occasion. But, it takes the right setup to maximize the benefits of this open concept. AD Systems' OfficeSlide™ is a commercial sliding barn door solution that can help push any conference room to its full potential. Combining performance and flexibility, the OfficeSlide comes in a variety of materials and hardware options and has sound controlling capabilities on par with swing doors, for an overall more productive interior environment.
3. Restrooms
When it comes to commercial restrooms, designers often need to contend with limited space in order to meet accessibility code requirements. Commercial sliding barn doors are an ideal solution because of their intrinsic space-saving sliding design over standard swing doors. AD Systems have no obtrusive exposed floor track and offer a variety of doors available with ADA-approved (American Disabilities Act) hardware, including several styles of handles and locking mechanisms.  Additionally, a soft closing feature helps prevent injuries to slow-moving fingers.
4. Interior storefronts
In modern design, interior storefront systems are often used to set the aesthetic stage for the rest of the building. These assemblies combine form and function to effectively separate space and guide the flow of traffic. When combined with glass, interior storefronts can create bright, inviting entries that draw occupants further inside. Adding a sliding glass barn door only enhances the clean, transparent design throughout the assembly, allowing natural light to pass through uninterrupted. Companies like AD Systems can customize their glass doors to fit nearly any size frame or opening, creating even more design possibilities.
5. Enclosed offices
While open-concept offices may be popular, recent research found that enclosed offices "clearly outperformed open plan layouts...particularly in acoustics, privacy and proxemic issues."  Commercial sliding barn doors, particularly those with glass, can be part of the solution to this problem. They can maintain the desired openness while creating a physical separation to safeguard sound and improve employee concentration.